When I was little, my mom made me the most awesome cakes. She had taken a class on cake decorating at one point and after that I, apparently, loved to challenge her skills. I ask for boom boxes, jungle scenes, etc. It seems fair, then, that my daughter (only five) would ask for a dollhouse cake for her dollhouse party. I found several ideas online and decided to try and make
this one
even though I didn't have the corresponding pan or tools (or skill). I was excited to try this project and had a lot of fun.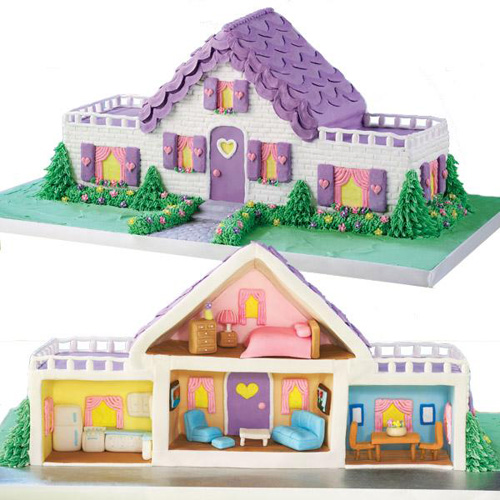 I baked the cakes in bread loaf pans. I made lots of cake, some yellow, some chocolate. Then I carved them and stacked them and shaped them to look like this. I then covered it with a crumb coat and put in the freezer overnight.
Here is how it turned out. Not exactly like the picture, but not horrible either. I wanted to use candles to hook the candles together to make it look like a fence, but I never could figure out how to get them to stick to each other. I read online tutorials, tried wax, tried glue, tried hot glue, and ran out of time. It kind of looks like a fence, right?
I ran out of time or I would have decorated the back.
Yes, those are wafer cookies. However, they didn't stick well to themselves, so I had to go in and use frosting to keep the cookies themselves together.
Abigail was sick with a cold at her party, so we cut the cake first and then let her blow out the candles on her own piece. We hope to contain the germs a little bit that way.
The cake was tasty. Now I want cake.